May 1, 2015
–
(Newswire.com)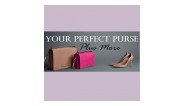 Shopping on-line has become the consumer's favorite way to avoid the malls in favor of browse-from-the-couch convenience. While there are plenty of on-line retailers taking advantage of this trend, Your Perfect Purse Plus More is a new company that's looking to make things even easier by placing a huge number of brands into one  location.
The company's new website offers direct access to dozens of sought-after brands, popular designers, and discount outlets, all with a focus on trendy, fashionable clothing and accessories. From sun-dresses and jewelry to hoodies and high-end prescription glasses, shoppers are sure to find something they can't live without while browsing.
The site is generally geared toward women shoppers, and well-known brands include Hudson Bay, Monnier, and many others. Featured specials are also available, offering discounts and promotions a wide variety of items.
To learn more please visit YourPerfectPursePlusMore.com
Contact information
Tricia Perry
4tperry@gmail.com
Your Perfect Purse Plus More Newsroom
Original Source: http://www.newswire.com/press-release/online-fashion-retailer-launches-new-storefront